It has been quite some time since I last posted. Shaking out the cobwebs with a list of what I've been reading.
I use Goodreads (follow me!) to track my reading, and for 2014 set myself a challenge of 52 books, or 1 book per week. I am apparently crushing it: even if I take out the 4 comic trade paperbacks I've read this year, I'm still 8 books ahead of schedule. I am a reading machine these days.
Chimamanda Ngozi Adichie's Americanah is at the top of this year's list for me. It was hard to put down. Her book follows Ifemelu, a Nigerian immigrant in the States, through her early years growing up in Nigeria, her move to the US for college, and her decision to return and what that might mean for her relationship with her high school boyfriend, Obinze. Ifemelu becomes a well-known blogger during her time in the US, writing about race in this country from the perspective of a non-American black person. All her other books are going on my list after reading this one (which was just optioned by Lupita Nyong'o!)
Into Thin Air was terrifying. Seriously, I had nightmares of being lost in a blizzard every night while reading this. That explains why I read it so quickly: I'm not a fan of blizzards. It's disaster porn, that's for sure: a trainwreck I couldn't look away from and wanted to know as much as possible about. The initial read was engrossing, as was falling down the internet rabbit hole tracking the controversy that stemmed from the original release of this book. This book makes me want to read more of Krakauer's work, even though he writes about mostly horrible things happening.
I'm just going to come out and say it: I was uncomfortable with how women are treated in John Connolly's The Book of Lost Things. It had been on my to-read list for years, and when I finally picked it up, I was disappointed. The main character is fine, but in my opinion it takes too long for the story (the young protagonist's trip into another world while in his world, 1940s England, bombs fall around him) to really get going and when it does, he meets only treacherous women on his journey. Seriously, not a single woman in this story has a single redeeming quality.
Other standalone books (more on series later) I've read this year: Meg Wolitzer's The Interestings (Interesting!), Piper Kerman's Orange is the New Black (Educational!), James Joyce's The Dead (ok, this one's a novella), Nancy Jo Sales's The Bling Ring (meh), Ann Rule's The Stranger Beside Me (Criminal!), Eowyn Ivey's The Snow Child (Fantastical!), Edna Ferber's So Big (Historical!), Donna Tartt's The Secret History (Also criminal! But fiction this time!), James Robert Waller's The Bridges of Madison County (Awful! But the musical was beautiful!), Tara Conklin's The House Girl (also historical!), J.T. Ellison's A Deeper Darkness (Like CSI but for reading!), N.K. Jemison's The Hundred Thousand Kingdoms (Also fantastical!), and twelve other books. Phew.
Series: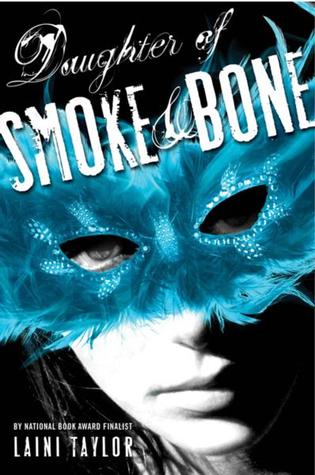 I picked up Daughter of Smoke and Bone at the beginning of the year because the cover was intriguing, and I was in the mood for some light fantasy. While this series didn't turn out to be particularly light, I was blown away by author Laini Taylor's crazy skills. Her prose is truly gorgeous, and she's built a tremendously layered, dynamic world in this series of three books (#2 is Days of Blood and Starlight, #3 Dreams of Gods and Monsters). I admit I was hesitant to pick this one up just from the title and the jacket blurb, but the series is fantastic. It's YA fantasy, and I am hesitant to give much away on the plot, which follows blue-haired art student Karou from her current home in Prague into another world. Just go read it, seriously.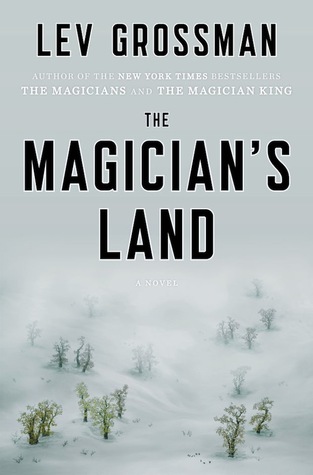 Ok, so I had read the first two books in this series last year, but The Magician's Land, the final book in the Magicians trilogy, is coming out later this summer. My writer friend Cate received an ARC to review, and after some begging and pleading and a conversation with Lev Grossman at BookCon, she graciously loaned it to me. I am so glad I didn't try to wait. This book was such a great ending to the already-awesome series. Storylines are wrapped up in satisfactory manners, the new adventure is greater and more terrible than the previous adventures, and I, for one, finally really liked the protagonist (who you mostly just tolerate in the first book and is not really the focus of the second book.) We did learn at Grossman's panel at BookCon that there were a few significant changes before publication, so I'm looking forward to reading this again when it's released. It all feels so insider-y!
So Lev Grossman's panel at BookCon was about Fiction and Fantasy series. The other author on the panel was Deborah Harkness, of the All Souls trilogy. She came across as insufferable on the panel, frankly. I recall one of the first things she mentioned was how she wrote her books thinking of all the things she, a history professor, wanted to teach her college students about a certain time period, and went on about how terrible it is to have one's work optioned for film or tv, and how she'll probably never allow it again, she's just too protective of it. I mean, fine, be protective, and hoping to educate is a noble enough goal, I suppose.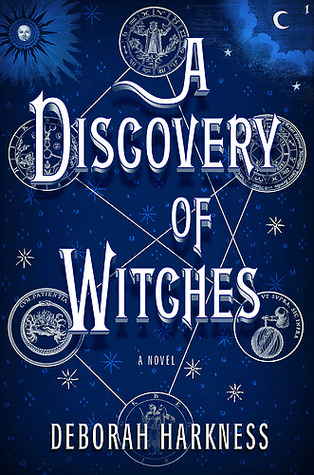 But she'd written a supernatural romance. How educational could it really be? My curiosity was piqued, so I picked up the first novel, A Discovery of Witches. It was terrible. It's basically Twilight for adults: a can-do-no-wrong protagonist, a witch, meets a handsome, centuries-old vampire with endless resources who finds her distractingly attractive and must protect her at all costs. There is some complication that mostly plays out in the background while the readers are treated to pages upon pages of what they eat, how they exercise (and not even the fun kind!) and what they're wearing. Harkness constantly shows instead of telling. Conflicts are dragged out and then resolved in the most simple of plot contrivances. As I said terrible. Do not read these books. I'm a masochist, and the second book was only $5 for my nook, so I read that one too. It's the same thing, only they travel back in time to Elizabethan England and meet all of the people who were famous at that time, because: history teacher teaching people? Certainly not because they were necessary to the plot, which is nonsensical. Do not read this.
Also!
I've really started getting into comics this year. Some backstory: I did not read comics as a kid, except for one or two issues of Dark Horse's Star Wars series when I was in sixth or seventh grade (I think it was a comic version of Timothy Zahn's Thrawn Trilogy?, which I was totally into at that age). Then in the late aughts, my very favorite television show, Buffy, was revived in comics form. A friend worked at St. Marks Comics at the time, and he made sure I had every new issue. I've kept up with that series on and off over the years, but didn't really branch out. But this past year, Captain Marvel/Carol Danvers/Carol Corps has been getting a lot of play on the Tumblrs I follow, and I finally got curious enough to pick up the first TPB of Kelly Sue DeConnick's 2012 run of Captain Marvel. And now I can't stop! Also reading the new Ms. Marvel, about a nerdy Muslim-American teenager who suddenly develops powers (Sana Amanat is so. flerking. awesome), the new She Hulk, Lumberjanes, which is hilarious and so well done (by an all-female team, too), Pretty Deadly (also a DeConnick title), Fables and Saga.
One thing that's made reading comics a lot easer for me has been my iPad mini (my birthday present from J). I'm a little more comfortable just going into a comic shop these days, but even just a few months ago, feeling like I didn't know where to start was enough of a barrier to me picking up anything but the new Buffy I knew was available. Being able to buy comics (from the Marvel, Dark Horse or Comixology apps) and immediately download them, allowed me to get past that initial scary "I don't know where to start!" feeling.